Q : What is the official website of the program
A : You can find the official program site from : http://www.economy.gov.sk.ca/immigration/SINP
Q : How to see if you are eligible
A : Saskatchewan has a 100 point system. So you can check the eligiblity by checking the following link : https://dhavaldesai.me/2015-11-10-06-04-41/saskatchewan-eligibility
Q : If you are eligible how to start the process ?
A : You need to apply online. Please click on the link https://immigration.saskatchewan.ca/ . Now let us start with the procedure.
Step 1 : You need to register yourself. Put in your desired Username and Password. Click on "REGISTER"
2. Now you will see the below Dialogue box. Click on the "Select a Registration Type" dialogue box



2.1 Now select " Skilled worker or Economic Immigrant Applicant " from the dropdown as shown in the image below and click on Continue


3.0 Now you can see the registration form comes up. Please provide the correct details. Always enter data in compliance with your passport data to avoid wrong information
4. You will now be redirected to the login screen. Your password was sent on the Email address that you provided in the 3.0 step. You will now need to reset the password to your desired password.

5. Now you will land at your initial screen. Click on "Please click here to begin" in the below screen"
6.0 Now you need to Birthdate and Address information in the form. Please take your passport with you and enter the details as given in your passport. If you are using an immigration consultant you will need to upload the IMM5476 form. You can find the IMM5476 from LINK . You can then upload the form by clicking on top right corner > Files > Click on it and then upload the file.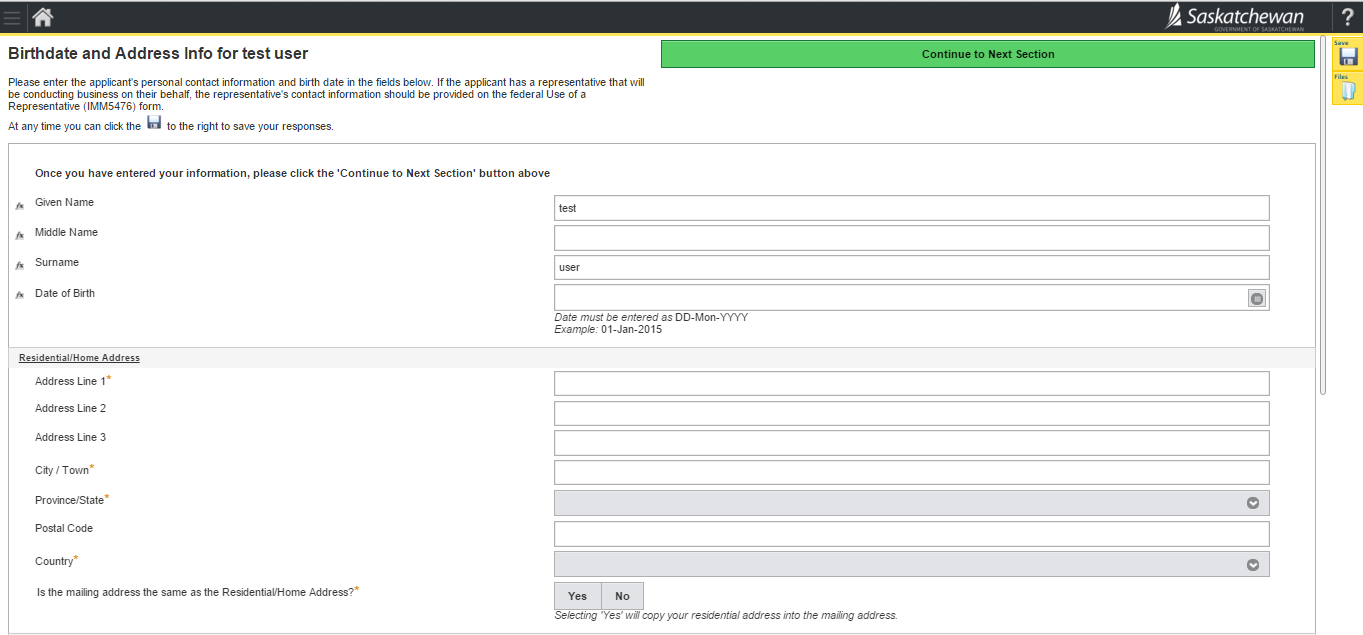 6.1 This is the same screen as above step. You need to provide the mailing address also. Please provide the information as per the passport.
6.2. When you click on Continue to Next Section you will get a confirm dialogue box. Click on "Yes,Continue"
Note : You will not be able to change the option which is selected in the above 6.1 from last 3 options "I am a skilled worker who wants to work and live in SK and so on .... "

---
6.3 Now Skilled worker pre application. This depends upon two conditions. If you already have a CIC application and Job Seekers application. Or you have not created the application. Here I assume that you do have an Express Entry profile so you need to provide the Express Entry profile Number and your job seeker validation code.

6.3.1 If you DO NOT have Express Entry profile please follow below steps :
7.0 Now from this step onwards I have applied as I do not have an Express Entry profile. So please be advised if you have Express Entry DO NOT proceed from here. You may see different screen.
Choose your options accordingly. The system will automatically calculate the points. If the points are less than 60 the application will not go further.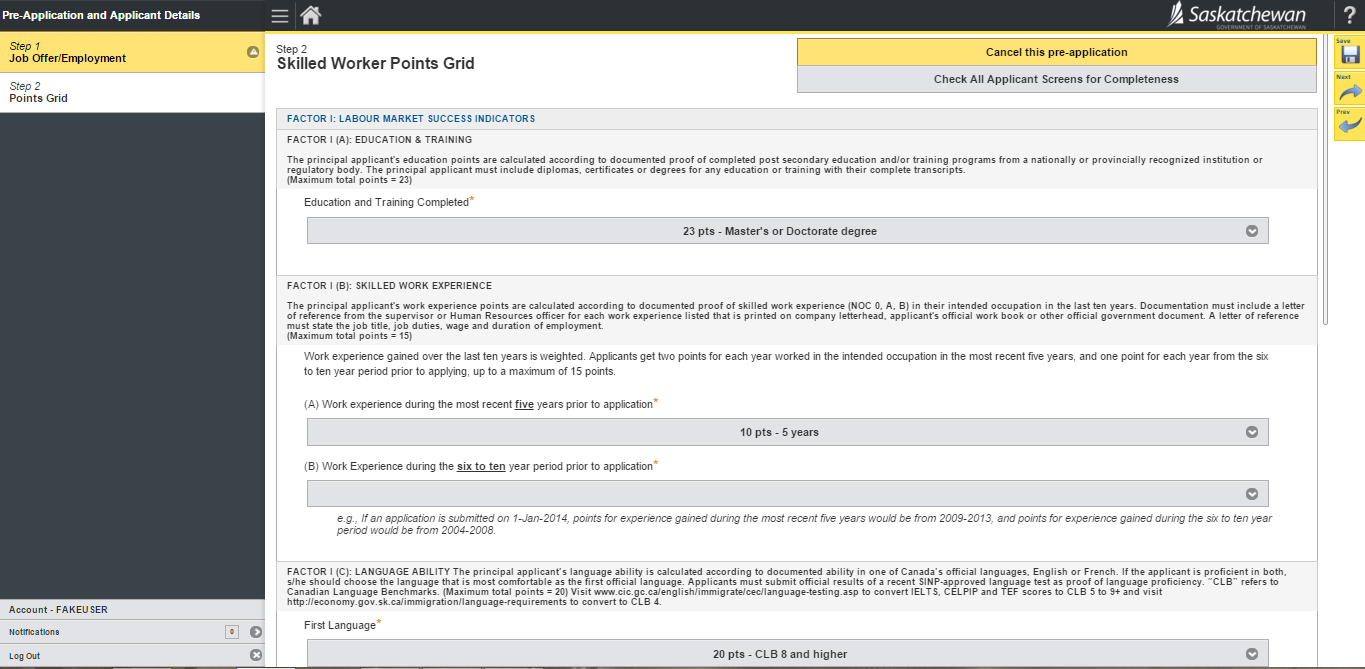 Now click on the Next Button on top right corner to move forward with the application.
8.0 Country of residence. At a later point of time you will need to fill in the IMM-0008 form. Please click here to open that form. To see this form you first need to save it and then open it in your Acrobat Reader. Once you open it you will see the form. Make sure your funds mentioned should match with the funds in this application.



Click on Next from top right corner to move ahead with your application.
---
9.0 Fill in the Applicant Details.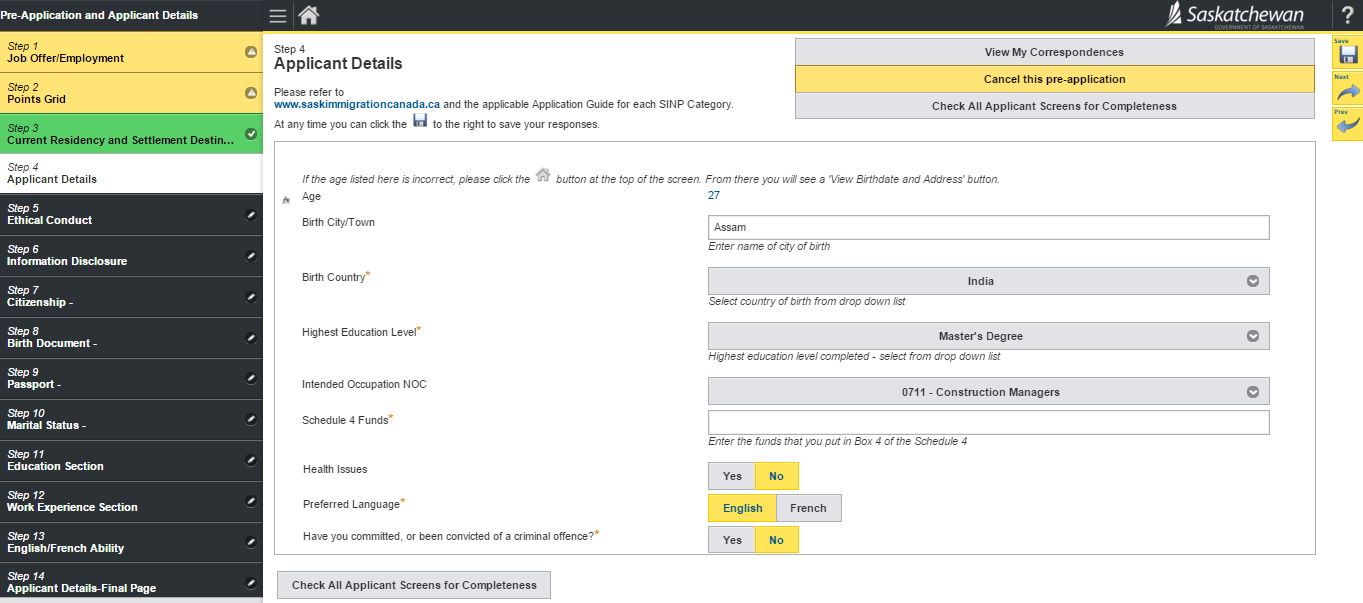 10. Ethical Conduct. You will need to fill and sign this Ethical conduct form. Once you fill and sign it you will need to scan and upload the same.
11. Application Disclosure Form. Read the contents. Click on Yes and then click NEXT.

12. Citizenship. Add from the drop down menu